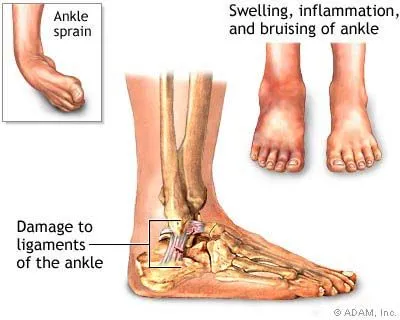 A sprain is a stretch and/or tear of a ligament. Ligaments are the fibrous bands of connective tissue that join two bones together. Ligaments stabilize and support the body's joints. For example, ligaments in the ankle connect the leg with the foot, enabling people to walk and run.

A sprain is caused by direct or indirect trauma that knocks a joint out of position, overstretches it or, in severe cases, ruptures the supporting ligaments. Typically, this injury occurs when an individual falls and lands on an outstretched arm, the side of the foot or runs on an uneven surface. Symptoms of a sprain include: pain, bruising, swelling, and inflammation. You oftentimes feels a tear or pop in the joint. In severe cases this may make the joint nonfunctional. In other cases, where the sprain partially tears the ligament, simple swelling may occur.

A strain is an injury of a muscle or tendon. Tendons are fibrous cords of tissue that attach muscles to bone.

Chronic strains are the result of prolonged, repetitive movements of muscles and tendons. Insufficient breaks during intensive training oftentimes lead to a strain. Symptoms of a strain include pain, muscle spasm, muscle weakness, swelling, inflammation, and cramping. In severe strains, the muscle and/or tendon are partially or completely ruptured, which can be incapacitating.


If you experience a sprain or strain, and this does not improve after a couple weeks, you should see one of the foot and ankle specialists at San Diego Podiatry Group to make sure you have not sustained serious damage, or if so, that you start the healing process as soon as possible.