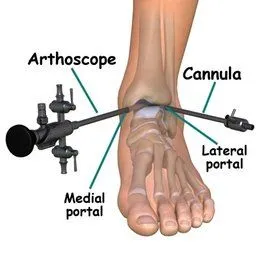 Although surgery is usually a last resort after more conservative measures fail, if you need a procedure, the providers at San Diego Podiatry Group are trained in the most up-to-date techniques in ankle surgery. Oftentimes this can be accomplished arthroscopically. Performing arthroscopic surgery on a foot or ankle ailment offers patients more than just a smaller scar.
The procedure, which involves making small incisions, also can be less painful, result in fewer complications and get patients back on their feet faster than with traditional "open" surgery.
While the use of arthroscopic surgery has been around for many years, the benefits of performing surgeries arthroscopically, which allows surgeons to repair common ailments using high-tech cameras and arthroscopic surgical equipment through one-quarter of an inch or smaller incisions, continue to increase for patients, especially in the area of foot and ankle surgery.
Patients of all ages and activity levels are now able to take advantage of arthroscopic surgery. The patients who benefit most tend to be at opposite ends of the spectrum — really active patients such as athletes, and the sicker or older patients.
Many common foot and ankle injuries or conditions can be treated using small incisions, including fractures, arthritis, bone spurs, exercise-induced compartment syndromes and Achilles tendon injuries. As surgical procedures continue to evolve, new instrumentation is developed to make these procedures easier and more amendable to minimally invasive techniques.
If you have been told you may need surgery on your ankle, consider contacting SDPG for an evaluation and thorough discussion of your options.